English Language Learning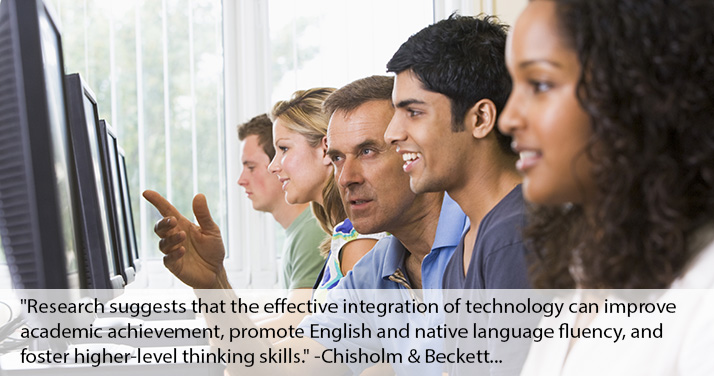 Raise ELL Student Achievement
English Language Learners (ELLs) are an exceptionally diverse group, especially when it comes to education. The variations in cultural and language backgrounds, level of education, and English language proficiency call for an education plan as unique as the individual. Research shows that technology, specifically Kurzweil 3000, can make a significant difference in supporting ELL development of decoding and fluency skills. Additionally, tools within Kurzweil 3000 can be used to help ELL students learn using the
same curriculum as their peers
.
Read the full research report
Individualize Instruction for ELLs, Not Curriculum
To be successful in the classroom, and in achieve rigorous standards, such as the
Common Core
, ELL students will need to develop effective reading and study skills, and will need to learn how to use technology to support their learning. Based on
Universal Design for Learning
, Kurzweil 3000 helps educators to meet the varying needs of ELL students—in individualized programs, sheltered instruction, and mainstream classrooms—with award-winning literacy tools created to enhance, develop, and accelerate their learning. What makes Kurzweil 3000 an effective solution for educating ELL students?
Actively engages ELL students in the learning process
Enables students to work at their own pace, either slow or accelerated
Students can learn with grade-level curriculum as they develop a proficiency in English
Accommodate the Diverse Learning Styles of ELL Students in One Environment
Kurzweil 3000 provides a multi-sensory approach to learning by combining audio and visual reinforcement for reading, writing, and fluency. This enables ELL students to develop their language skills, further their academic learning, and develop a technological competence simultaneously, and within one environment. Making these literacy tools and school curricula available to ELL students
anywhere, anytime
enables ELL students to become independent learners and reach their academic goals faster.
How does Kurzweil 3000 help ELL students to learn at grade-level?